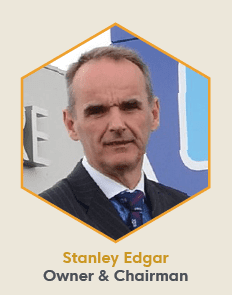 Jet Assist Business Jet Centre, the Belfast International (EGAA/BFS) based FBO originally opened in June 2014, has continued its growth in recent months following the company's purchase by Northern Irish entrepreneur Stanley Edgar in June 2018.
A recently completed refurbishment of its VIP facilities includes a makeover of their passenger lounge and significant upgrades to the crew lounge, rest areas with the addition of sleep pods and state of the art computer equipment. Jet Assist are also delighted to be providing a Biz Av dedicated refuelling service following the introduction of its own 11,000 USG Jet-A1 bowser in February of this year.
In tandem with developments to their facilities, equipment and services, Mr Edgar and his team gladly welcome Eddie Allison (Commercial Director), Craig Middleton (Senior Consultant) and Steve Woods (Senior Consultant) to the Jet Assist team as hands on advisors. Between them the 3 professionals bring vast FBO, fuel and industry experience and Jet Assist are excited to have their support as the company embarks on the next chapter of the Jet Assist story.
Mr. Edgar, who has long been involved within the business aviation community as a pilot and previously a flight instructor, speaks enthusiastically about his plans for Jet Assist and growing the FBO further, "I am delighted with the progress we have made during my short time with Jet Assist from enhancing our crew/passenger facilities and in-house security screening suite to welcoming Eddie, Craig and Steve and their extensive industry experience as they support our existing operations team."
Mr. Edgar continues "Our focus is to deliver the highest standards of service and facilities to our customers whether they are spending time visiting Belfast itself, the beautiful Northern Irish countryside or using Belfast International as the most convenient trans-Atlantic tech stop option. Our team at Jet Assist is committed to delivering industry leading service and value to our customers 24/7/365."